From: http://www.chinadaily.com.cn/china/2014-03/26/content_17380743.htm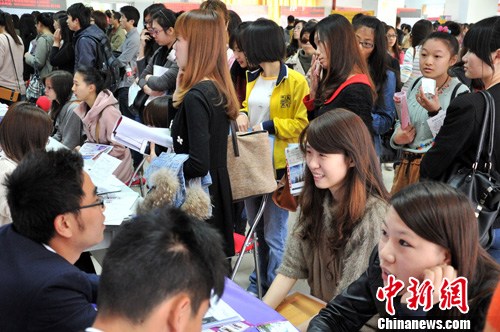 The photo taken on Mar 5 in Fuzhou, Fujian Province, shows women are looking for opportunities at a job fair. The second-child policy may make it harder for married women to find a job.[Photo/chinanews.com]
"I don't plan to have a second child. But when potential employers learn that my first child is a girl, they think I'm likely to have another baby," said Xia.
Before the second-child policy was introduced, married women with children and work experience had an advantage in the job market, but now they are being confronted with gender discrimination again, Xia added.
"Women have to work harder to be given equal status in the workplace. And many face pressure from their families to have second children, which can affect their career prospects," Liu said.
"Giving birth to children is a social responsibility that should not be shouldered by women alone," said Li Bin.