From China Daily -
http://www.chinadaily.com.cn/china/2013-01/17/content_16128533.htm:
Government
moves
to
fight
corruption
will have some surprising effects, including putting a possible dent in the market for luxury goods, as Wang Wen finds out.
Strict government regulations to ban officials' consumption of luxury items are expected to soften the luxury goods market and change patterns of consumer consumption.
Statistics from the Federation of the Swiss Watch Industry show that Swiss watch exports to the Chinese mainland dropped 27.5 percent year-on-year in September.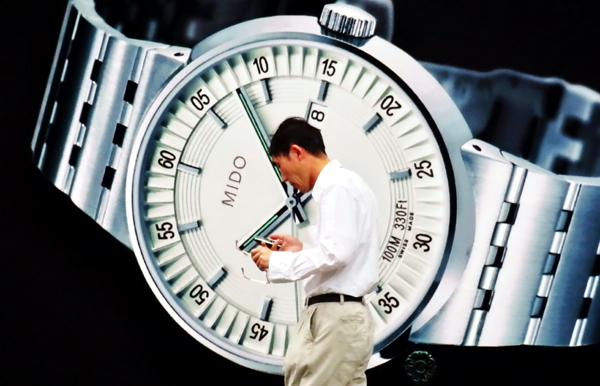 A pedestrian walks by a Swiss watch advertisement in downtown Shanghai in September 2011. JingWei / for China Daily
China's demand had been weakening through the year, but September was the worst, followed by another 12.3 percent fall in October, noted Ren Guoqiang, a partner at Roland Berger Strategy Consultants in China, a consulting firm based in Germany.
Ren said government officials, who used to be the main recipients of luxury watches as gifts,were unsure about the future policy environment.
Several government officials who were noticed by the public to own luxury watches were investigated for corruption in 2012. One was the director of the provincial administration of work safety, who wore a Swiss watch when appearing at the site of a highway accident.
Officials are cautious now about receiving gifts, Ren said.
"It hurts the luxury watch business a lot," since more than 25 percent of the luxury items sold on the Chinese mainland were used as gifts.
The government has made a new regulation banning government officials from using public funds to buy luxury items. The regulation was made in July and came into effect in October.
The regulation specifically restricts buying luxury items as gifts, especially products such as men's watches and garments, said Bruno Lannes, a partner of Bain & Co, a consultancy based in the United States.
Bain & Co shows that the yearly sale of luxury watches would fall 5 percent on the Chinese mainland in 2012, whereas in 2011 the figure rose as much as 40 percent.
Domestic distributors were also hit.
"The ban will have an adverse effect on our watch sales," said Sun Xuguang, the operations manager at Sparkle Roll Group Ltd, a Hong Kong-listed luxury dealer of Swiss independent watch brands, including Parmigiani and DeWitt.
Very high-end watches are eye-catching and easily recognized by the public and so will be affected more, Sun added.
The recent ban on public money for luxury goods has had an impact not only on sales, but also on consumer trends.
Buying gifts, which will remain an important part of luxury spending, is moving away from items with logos due to the extensive exposure on social media, said Lannes.